Engineering Smart Connected Mobility
4th VSimRTI Workshop 2014
9 May 2014, 10:00 - 17:00, Fraunhofer Forum, Berlin.
Tutorial: Use simulation for an easier and more efficient assessment of new mobility solutions
Create sophisticated simulation scenarios
Set-up simulation environment and mobile applications
Become familiar with comfortable assessment tools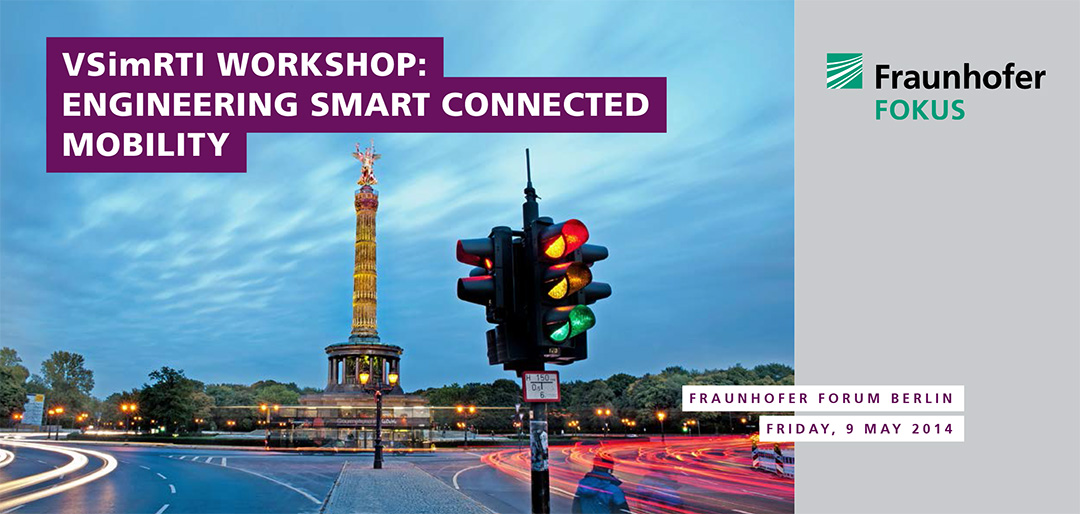 Description
This practical workshop provides tutorials to learn how new Smart Mobility solutions can be developed and an assessment can be done. All workshop participants get a ready-to-use simulation environment for their laptops to carry out all tutorials themselves. In the first tutorial, sophisticated simulation scenarios will be created. Then, the participants learn to set-up simulations and to develop own mobile applications. In the third part, the participants will become familiar with comfortable assessment tools and learn how they can analyse their simulation results.
New smart connected applications help to increase today's mobility: Traffic participants have the opportunity to exchange a huge amount of information via cellular and Vehicle-2-X networks. Smartphone and in-vehicle apps use the received information to suggest optimized travel routes and to increase safety of all traffic participants.
VSimRTI is a comprehensive simulation framework for the assessment of new solutions for Intelligent Transportation Systems. Therefore, VSimRTI integrates various simulators responsible for vehicular traffic, communication via cellular and Vehicle-2-X networks, smartphone and in-vehicle applications, and electric mobility.
Welcome Event
Restaurant Schneeweiß
Simplonstraße 16, 10245 Berlin, Germany
The dinner will take place on the eve of the workshop, 8 May 2014, at 19:00 in the restaurant Schneeweiß (about 10 minutes by taxi or 20 minutes by public transport from Berlin-Alexanderplatz).
Venue
Fraunhofer Forum
Anna-Louisa-Karsch-Straße 2, 10178 Berlin, Germany
Workshop Program
10:00Welcome Address
Dr. Ilja Radusch (Fraunhofer FOKUS)
10:20VSimRTI Introduction
Dr. Björn Schünemann (Fraunhofer FOKUS)
10:45Coffee Break
11:00How to create a simulation scenario?
David Rieck, Michalis Adamidis (Fraunhofer FOKUS)
12:30Lunch
13:30How to simulate mobility solutions?
Robert Protzmann, Sebastian Dunkel, Jan Henning (Fraunhofer FOKUS)
14:30Coffee Break
15:00How to evaluate simulation results?
Robert Protzmann, Sebastian Dunkel, Jan Henning (Fraunhofer FOKUS)
16:00How to develop mobility applications?
Bernard Ladenthin (Fraunhofer FOKUS)
16:45Discussion
17:00End of Workshop
Photos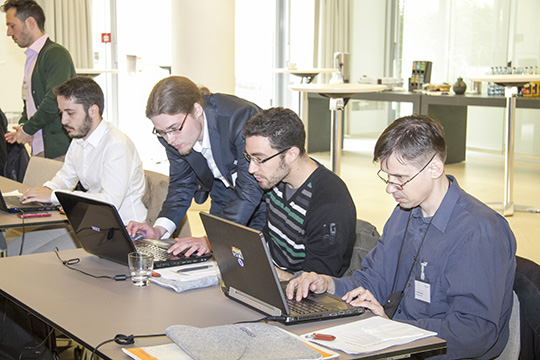 Contact
For further questions, please contact us at vsimrti-workshop@fokus.fraunhofer.de.