Engineering Smart Mobility
3rd VSimRTI Workshop 2013
26 April 2013, Fraunhofer Forum, Berlin.
Connecting eMobility and cooperative ITS solutions
In Cooperative Intelligent Transportation Systems, various aspects have to be considered: Vehicles and drivers have the opportunity to exchange a huge amount of information about the current traffic situation via cellular and ad-hoc networks. Smartphone and in-vehicle apps use the received information to help the drivers to optimize their routes and to increase safety of all traffic participants. However, one further important aspect influences the behaviour in cooperative transportation systems: the increasing number of electric vehicles.
Simulation architectures such as VSimRTI are prepared to analyse all aspects and influences appearing in the new transportation systems. For this purpose, different simulators modelling vehicle traffic, communication via cellular and ad-hoc networks, smartphone and in-vehicle applications, user behaviour, and the electrical grid are coupled together to one overall simulation environment.
The VSimRTI workshop provides an insight of how to setup and run simulations as well as discussions of state of the art methods and tools for the assessment of novel solutions for Cooperative Intelligent Transportation Systems.
The program features industry and research experts presenting their success stories and newest research results and an introduction to the latest features of our VSimRTI simulation environment.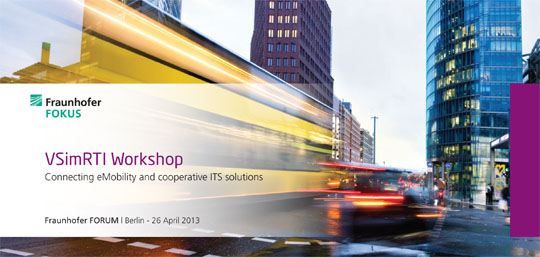 Welcome Event
Restaurant Katz Orange
Bergstrasse 22, 10115 Berlin, Germany
The dinner will take place on the eve of the workshop, 25 April 2013, at 19:00 in the restaurant Katz Orange.
Venue
Fraunhofer Forum
Anna-Louisa-Karsch-Straße 2, 10178 Berlin, Germany
Workshop Program
10:00Welcome Address
Dr. Ilja Radusch (Fraunhofer FOKUS)
10:15Keynote 1
CONVERGE - A new Approach for Connected Mobility
Prof. Dr. Horst Wieker, Manuel Fünfrocken, Jonas Vogt (HTW Saarland)
11:00Coffee Break
11:20Keynote 2 (in German)
Intermodale Mobilitätsdienste - Umsetzungsbeispiele aus der Praxis
Dr. Jan Kätker (VMZ Berlin)
12:00Lunch
13:00Success Stories: VSimRTI User Experiences
Smart caching of infotainment data transferred through cellular networks
Robert Protzmann (Fraunhofer FOKUS)
Aggregate emission control of road traffic
Florian Häusler (DCAITI - Daimler Center for Automotive Information Technology Innovations)
The implementation of traffic simulations as part of a new educational concept
Sebastian Zander (Helene-Lange-Gymnasium Hamburg)
14:45Coffee Break
15:00Impacts of electric mobility on future electricity grids
Alexander Stroband (RWTH Aachen)
15:45How eMobility and cooperative ITS benefit from each other
Dr. Björn Schünemann (Fraunhofer FOKUS)
16:30Coffee Break and Discussions
17:00End of Workshop
Contact
For further questions please contact us at vsimrti-workshop@fokus.fraunhofer.de.